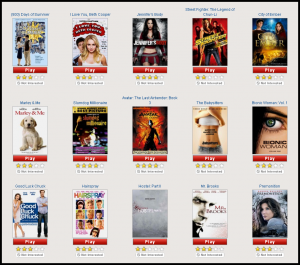 Netflix has been available in Canada now for a little over 2 months.  Initial reaction to the service was overall positive but with one significant negative – limited selection.
Since the launch, Netflix has been able to slowly add new content on a semi-daily basis.
In addition to new content, Netflix also launched native applications for Wii and Xbox 360.
So after two months, what is the selection like?
Well it's tough to come out and say that the selection is really good because what I think is really good may still be crap to someone else.
Looking at the selection by Movie Studio, there are some things to notice.
Lionsgate Home Entertainment has the largest selection with over 280 items, although many of these are Children's programming.  Some highlights from Lionsgate are Terminator 2: Judgment Day (1991), Reservoir Dogs (1992), Basic Instinct (1992), Requiem for a Dream (2000), American Psycho (2000), Monster's Ball (2001), Akeelah and the Bee (2006) and  Repo! The Genetic Opera (2008).
Sony Pictures is next with over 240 items.  Highlights here include On the Waterfront (1954), Dr. Strangelove (1964), The Last Picture Show (1971), Taxi Driver (1976), Das Boot (1981), The Dark Crystal (1982), Labyrinth (1986), Big Trouble in Little China (1986), Gattaca (1997), Snatch (2000), Memento (2000),  Kung Fu Hustle (2004), Closer (2004) and Superbad (2007).
Next is Universal Studios with almost 200 movies.  Highlights include Vertigo (1958), Psycho (1960), The Birds (1963), The Thing (1982), Sixteen Candles (1984), Weird Science (1985), Do the Right Thing (1989), Backdraft (1991), Dazed and Confused (1993), Reality Bites (1994), 12 Monkeys (1995), The Game (1997), Out of Sight (1998), Being John Malkovich (1999), Traffic (2000), Lost in Translation (2003), Eternal Sunshine of the Spotless Mind (2004) and Hot Fuzz (2007).
Warner Home Video list over 140 movies, documentaries and TV series (including Doctor Who, Red Dwarf and Black Adder) but there are only a handfull of well known movies.
Fox Home Entertainment lists a little over 100 shows, but these actually make up a bulk of the newer films.  11 of these are from 2009, 16 from 2008 and 7 from 2007.  Highlights include (500) Days of Summer (2009), Bride Wars (2009), Jennifer's Body (2009), Australia (2008), City of Ember (2008), The Happening (2008), Horton Hears a Who! (2008), Marley & Me (2008), Slumdog Millionaire (2008), What Happens in Vegas (2008) and The X-Files: I Want to Believe (2008).
Paramount Home Entertainment comes in around 70 items, but there's not much for new or intesting content here.
Miramax and Buena Vista Home Entertainment don't even bother with each listing only 5 movies.
I don't mention any documentaries above but there are a lot to choose from including some very recent titles like I Am Comic (2010), The Lottery (2010) and American Grindhouse (2010).
As for competition, I'm not sure what it is like out East, but with Shaw Cable Video-on-Demand old movies cost $5 and new releases are $6 (ya, what a joke).
Blockbuster is probably the only alternative in value, in that you can get unlimited "favourites" for $10/month (1 at a time), but hardly convenient.
In the end, Netflix is still offering a free 1 month trial of the service.  As long as you watch 3 or more movies a month, you are coming out ahead.  As for selection, it seems to be getting better all of the time.
ComputerAbuser