Not too long ago, I mentioned purchasing a 4×1 HDMI switch from MonoPrice and that I would eventually do a review.
It took a little longer than I anticipated, but after using it for a few weeks, I decided it was time to post my experiences.
If you haven't already read my previous post about MonoPrice, lets just say that MonoPrice is pretty awesome.  They have some of the best prices on cables and accessories on the Interweb.
The switch I ended up purchasing, and the topic of this review, is the HDX-401TA 4-port HDMI switch with digital and analog audio outputs.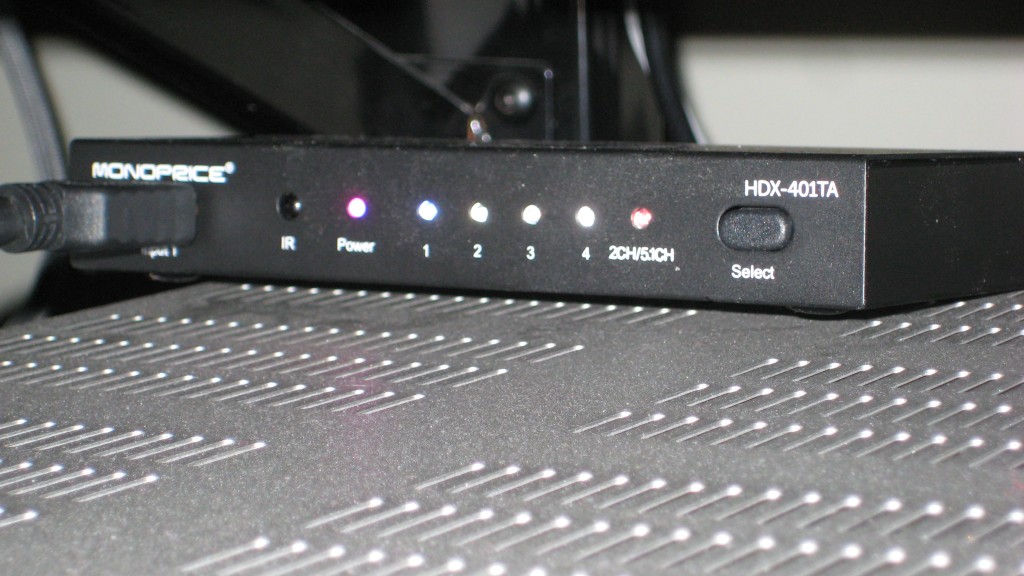 MonoPrice has a pretty good selection of HDMI and DVI switches, but this is the only model that includes audio outputs.
Here are a couple of scenarios where you might require a HDMI switch.
1.  Your display device does not have enough HDMI inputs .
2.  Your home theater receiver does not have enough HDMI inputs.
If your receiver is more than a few years old, it may not have any HDMI inputs at all!
Background
My Devices:
– Sony KDL-46V3000 46″ 1080p TV (2 HDMI & 2 component inputs).
– Pioneer VSX-816-K home theater receiver (no HDMI & 3 component inputs).
Devices to Connect:
– Custom HTPC (1080p – HDMI & VGA)
– Motorola DCT-6416 (phase III) HD Cable-box (1080i – HDMI & Component)
– Toshiba HD-A2 HD-DVD player (1080i – HDMI & Component)
– Sony PS3 120G Slim (1080p – HDMI)
– Nintendo Wii (480p – Component)
Technically, my TV has enough inputs for everything (HTPC over VGA, PS3 & HD-DVD over HDMI, Cable & Wii over component).
Since my HTPC has a Blu-Ray drive, I wanted it connected over HDMI.  Luckily, since my receiver did component switching, I was able to make due by connecting the HD-A2, DCT-6416 & Wii to the receiver leaving the HTPC & PS3 connected via HDMI to the TV.
The downside, was that the Toshiba HD-A2 will not up-convert regular DVDs to HD (1080i) over component, just HDMI.  Not a big deal.
Then everything turned to crap when the 2nd HDMI input on my TV failed. 😡
The Solution
Rather than switch my HTPC back to VGA, I decided to get a HDMI switch.  The bonus would be less cable clutter and I would be able to use HDMI for everything but the Wii.
The two main features it needed to have were at least 4 HDMI inputs and a remote control.
While looking over the selection of switches at MonoPrice, I noticed the HDX-401TA with digital (optical & coax) and analog outputs.
Technically, the Pioneer VSX-816 has enough audio inputs to support all of my devices.
If I was to get the HDX-401TA though, it would greatly simplify setup and control (and increase WAF).  So despite the $18 price increase over a basic 4-port switch with remote, I went for it.
Setup & Configuration
The switch arrived a few days after ordering.
Everything appeared exactly as it did on the web site, so there were no surprises there.
It seemed to be well made and powered up without any problems.
One of the annoyances with this particular switch is that the first input is on the front.  I had already noticed this before ordering, so it wasn't a surprise, but I thought I would mention it anyway.
Specifications:
Inputs: 3x HDMI (rear), 1x HDMI (front)
Outputs: 1x HDMI, 1x 3.5mm analog audio, 1x RCA digital coax, 1x optical toslink
– Simultaneously outputs audio on all outputs*
HDMI 1.3b fully supported
Fully HDCP compliant.
Included in the box: HDMI switch, AC adapter, user manual, remote.
Setup was pretty straight forward.  I connected my 4 HDMI devices to the inputs, the HDMI output to my TV and the digital optical cable to my receiver.
The Atlas DVR remote that came with my Motorola DCT-6416 is a learning remote, so it had no problem learning the keys from the remote included with the HDX-401TA.
Experience
For the most part, the HDX-401TA did exactly what it was supposed to do.  It correctly passed the HDMI signal from which ever source was selected and it correctly extracted the digital and analog audio streams from the source material and outputted it appropriately.
In fact, all but a few issues were related to the source device.
– Custom HTPC – The only issue I ran in to was that my DVI-to-HDMI adapter does not allow audio to pass through, so I had to connect a separate audio cable to the receiver.
– Sony PS3 – once configured to output audio formats appropriate for my receiver over HDMI, everything worked like it was supposed to.
– Toshiba HD-A2 – After connecting the HDX-401TA, I learned that this device is unable to bitstream audio over HDMI.  Only uncompressed PCM audio is supported.  This is fine if your receiver has an HDMI input and accepts audio in this format.  The Pioneer VSX-816-K does not, so I had to connect a separate audio cable to the receiver.
– Motorola DCT-6414 III – Here is where I ran into the most issues.  The video and audio always switched correctly; I didn't have a problem there.  The biggest problem and it didn't bother me as much as it bothered my wife, was the lock delay.  Every time you changed channels between a SD channel and a HD channel, the switch would loose lock.  Within 5 seconds the video would come back, but it took another 3 to 5 seconds before audio would come back up.  The additional audio delay may have been due to my receiver, but the combined delay became very annoying.  Once you were locked on an HD channel, you could change to another HD channel with minimal delay.  The same was true switching between SD channels.  Another issue I had was that sometimes, if the TV was off for a while, after turning it back on, the color would be all messed up.  Turning the TV on and off didn't make a difference, you had to power cycle the switch to correct the issue.  I fixed that by plugging the switch ac adapter to my the switched AC outlet on the receiver.  That way the switch turned off when ever the receiver was powered down.
The audio and video delays became too much and I ended up having to connect the DCT-6416 directly to the TV over component for video and to the receiver over coax for audio.
By the end, only 3 of the 4 devices were being fed through the switch and only the PS3 had audio going through it.  The resulting setup was very complicated and did not go over very well with the family.
To add insult to injury, after a few weeks, the switch stopped extracting audio.  No matter which source I used nor what output I tried, I couldn't get audio from the switch.
Conclusion
I am no longer using the switch in my home theater.  Instead, I ended up ordering an Onkyo HT-RC260 HDMI switching home theater receiver.  I had some store credit and using a switch with my old non-HDMI receiver was just not going to work out.  The HT-RC260 seriously kicks ass and I will be doing a review in the next while.
I still have a need for an HDMI switch in my office.  If I can get MonoPrice to exchange this model for a simple HDMI switch I will do that.  If I can only get it exchanged, I will still be able to use it, just without the audio outputs (not needed).
ComputerAbuser