I don't know what exactly has changed recently with regards to GoogleMaps, but I have noticed that things are going missing, in that they are no longer listed.
I live in a new area, so I wasn't surprised that it didn't show up on GoogleMaps when we first moved in.  The same thing happened at our last house, which was also new.
It's not a huge deal I suppose, I can just pick the nearest intersection for plotting routes.
Despite the workaround, I was very happy when the maps were updated and my area showed up.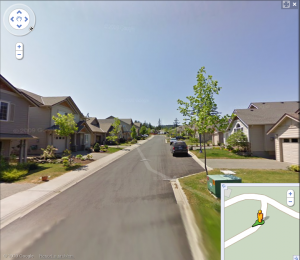 Shortly after that, the Google truck drove through the area and it showed up on Streetview.
I also use GoogleMaps on my Windows Phone (with voice recognition), so it was handy to just say my home address to bring it up.
Everything was good and the people were happy.
The Cold Shoulder
I don't know where the hate came from, but for some reason Google unlisted my area recently.  🙁
Surprisingly, Streetview still works.  The area just shows up as a bunch of blank roads.
To make matters worse, they also unlisted the 37 mile walking/biking trail that runs through my city.  In the past, I could plot a bike route along the trail and determine distances and such, but the trail no longer exists according to GoogleMaps.
The Enemy
I don't like MapQuest, Bing Maps or any of that other crap, but for completeness I tested them to see if it shows up there.
Sadly, it shows up on both MapQuest & Bing.
Bing maps found my street easily and still shows the trail, although it doesn't know how to plot routes using the trail.  MapQuest had a problem finding it and I had to add my ZIP/Postal Code.  It also doesn't show the trail.
Neither map site holds a candle to GoogleMaps (seriously, MapQuest blows).
I don't know what's with the hate Google, but I hope this gets corrected.  I'm starting to question whether I truely exist.  😯
ComputerAbuser