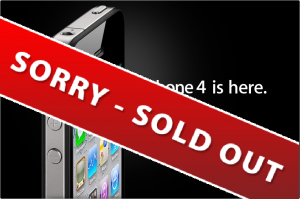 Tomorrow morning, the iPhone 4 will be released in China.
I guess that's all nice and dandy for them, but how exactly can Apple start selling iPhone 4's to the most populous country in the world, when they can't even build enough iPhone 4's to meet demand in Canada?
Like seriously, WTF!
It's not like I even want it for myself.  My wife's two year old pink SE w580i is getting a little long in the tooth and she asked me to hook her up with an iPhone 4.
I posted back on Sept 1st that it was sold out despite being on the market for several months.   Well, it has been over 3 weeks since then and no change.  Right now I am on several waiting lists and I even had a Rogers rep in customer service agree to call me when they get some in stock.  That was two weeks ago.
Yesterday, my wife discovered that a local Best Buy had received a delivery of iPhones and texted me about it.  I immediately jumped into my car and drove off to get one.  A few minutes later, she called to say that they only received two for Rogers Wireless and that they just sold the last one.  😡
Some people believe that Apple is purposefully limiting stock until the free bumper promo is over.  Others believe a new updated iPhone 4 will be released in October (presumably without the antenna problem).  I guess time will tell.
ComputerAbuser