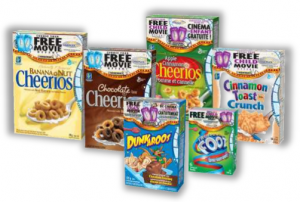 Just like in previous years, General Mills has teamed up with Cineplex to offer free movie passes with select General Mills cereals.
Each specially marked box contains a code for either a general or child admission that you redeem online at http://www.cineplex.com.  There are no limits to how many you can use, although they are only valid Sunday through Thursday.
During February the codes are good for 1 free admission.  From March 1st to May 31st, they are good for 1 Buy One Get One Free admission.
Details on how to redeem the code can be found here.
Details on the rules and which cereals are included can be found here.
We already used 5 codes to see Warms Bodies this past Sunday.  😀
ComputerAbuser