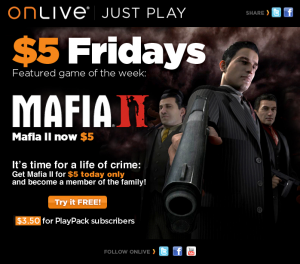 I just received word that Onlive has Mafia II on sale for only $5 today.  One of their $5 Friday deals.
I'm tempted to give it a go since the reviews for Mafia II are pretty good and I've never played it.
I'm really concerned about the latency though.  After installing Onlive on my computer I tried out Dirt 2 and it was basically unplayable.  Maybe it's the way I play racing games but I find I do lots of small adjustments while driving.  With Onlive I found that by the time my movement registered I had already made several other adjustments.  It seriously felt like a 500 ms delay.  It was not pretty.
The latency should be less noticeable with a game like Mafia II, shouldn't it?.  A free demo is available, so I guess the best thing to do is try it before I buy it.  😀
ComputerAbuser