I'm not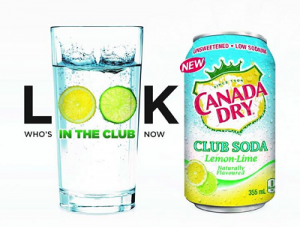 a fan of Coke or Pepsi.  I don't mind some Root Beer if I feel like something sweet (I prefer A&W over Barq's), but my favourite soda is Canada Dry Ginger Ale.
Despite having a lot less sugar than other soft drinks, it still has quite a bit.  I also can't stand artificial sweeteners.
So I was looking forward to trying Canada Dry Lemon-Lime Club Soda, which I finally did today.  It's not sweet in the slightest, but it's cold and bubbly. It's also not salty or bitter like other club soda's I've tried.
I still prefer Ginger Ale, but for now while I'm cutting back on sugar I think this will be a satisfactory alternative.  😉
ComputerAbuser