Apparently I was short on sleep because I seriously slept in Saturday morning.
I originally planned on getting to the show early so that I could get to a few of the booths that were a little busy on Friday (namely Duke Nukem, Portal 2 & Dragon Age 2).
I ended up getting to the show at noon.  The first thing I did was meet up with a girl who was buying my Sunday pass for her sister.
After that I headed into the expo expecting perhaps a few more people than the day before.
What I did not expect was just how crazy it was going to be.
The amount of people dressed up also shot through the roof (notice Ulala above).  Many of the costumes were quite elaborate.  I didn't get any photos myself, but I got the impression that the folks that were dressing up really like the attention and were always up for a photo.
OCModShop has posted an extensive collection of PAX 2010 cosplay photos on their website.  Here are a couple that stood out (Photos by Alan McCloskey – clicking either photo will take you to the full collection)
Not counting the influx of cosplay, there was just way more people at the expo than there was the day before.  Every booth that had a small line on Friday was significantly bigger this day.
Don't get me wrong, it was still a lot of fun.  I tried to get in on some of the raffles that I missed on Friday.  I also took the time to complete the NVidia scavenger hunt.
The NVidia scavenger hunt consisted of finding 5 or 6 booths using the clues found on a small sheet of paper.  At each booth, they would stamp/punch your sheet and then you would return the completed sheet for a raffle entry and a free t-shirt.
It wasn't crazy difficult, but it took some thought.  The most difficult one was finding the NVidia partner that made NVidia motherboards, video cards & laptops.  I checked out the booth list on the expo floor, but nobody matched up.  It turned out to be MSI and their booth was in a hidden area on a different floor.
MSI definitely got the worst location and without the NVidia scavenger hunt, I'm sure most people wouldn't have even known they were there.  They had a sign posted that they were giving out prizes in exchange for doing various activities, including push-ups.  I asked about it and they offered me a t-shirt if I could do 25 push-ups.  I agreed and very quickly it grew into a group of about 5 or 6 guys all doing push-ups in exchange for a t-shirt (the one seen here).  I also did a survey to enter the raffle which they were holding 3 times a day.  They were giving out some cool stuff (netbooks, video cards, mice, etc etc).  The bad part was that they kept all of the tickets from all of the previous draws.  That meant by Sunday there would be entries from all 3 days, greatly diminishing everyones odds of winning.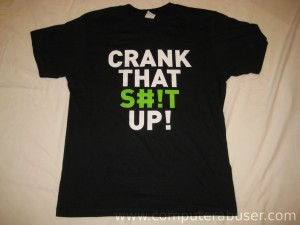 I eventually completed the NVidia scavenger hunt and received my official NVidia "Crank that S#!T UP!" t-shirt.
A lot of people on the expo floor were also wearing their NVidia t-shirts (which I'm sure made NVidia very happy).
At this point I decided I would make an effort to score as many t-shirts as I could.  I was able to get 6 on Friday and I already had a couple from Saturday so far, so I set out t-shirt hunting.
I also tried to keep my eyes out for where the after-parties were going to be.  On Friday there seemed to be a lot of promotional material promoting the various after-parties, but I didn't notice anything while walking the floor on Saturday.
Like Friday, I didn't get around to sitting in on any panels during the day.  I also overheard from a couple how awesome the reading of the play "Of Dice and Men" was.  The reading was at 7:30 PM on Friday and I was at the inFAMOUS panel at the time, so that couldn't have been helped.
The expo floor was only open until 6  (it was open until 7 on Friday) so I decided to try and hit the Will Wheaton panel across the street at 6:30.  I even left a little before 6, just to be safe.  Ya, well, when I got to the Sheraton there was a PAX Enforcer at the bottom of the escalator informing everyone that the panel was already full.  Like WTF?  it was still 45 minutes away?
Sadly I walked out and shook my head as I saw groups of people racing to the Sheraton, presumably, to get to the Will Wheaton panel.  Obviously, they should have booked a larger theatre.
At this point the expo was closed and I decided to go back to my car and drop off all my new swag.  Since I wasn't able to locate any after-parties, I figured I would go grab something to eat and hit up the PC freeplay area.
Though, that is not what ended up happening.  🙂
ComputerAbuser