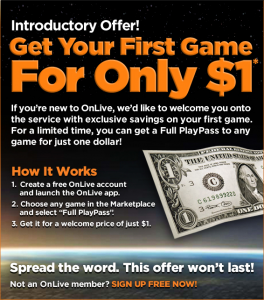 I don't know how long this promotion will be on, but right now if you head on over to Onlive.com and sign up, your first game purchase is only $1.
This is assuming you are new to Onlive or at least haven't made any purchases yet.
I signed up for Onlive after getting back from PAX last month, but hadn't made any purchases yet.  Immediately after getting the e-mail from Onlive, I logged in and purchased Deus Ex: Human Revolution.
The only other games I would have been interested in are L.A. Noire and Batman: Arkham City, but neither game is available yet and pre-orders don't count for this promotion.  🙁
In a previous post, I mentioned that I found the control lag with Onlive to be a big problem with games that require a fast response (like racing games).  After spending some time playing DE: HR through Onlive, I still believe this is a big problem.  Luckily, DE: HR doesn't require lightning fast controls.  L.A. Noire will probably be even better suited for this type of service since it has a much slower pace.  I still wouldn't recommend purchasing any racing games or fast paced first person shooters.  It's still possible I will run into lag related difficulties with Deus Ex as the game progresses (and the difficulty increases).
***
In the end, the biggest benefit to using a cloud based gaming service like Onlive, is it allows you to play high end PC Games without having a high end PC.  I actually have a fairly high end system already (4GHz i5 2500k/8GB DDR3/ HD5850) so this isn't really a benefit for me, but saving 98% off of the retail price of a 2 month old game is pretty huge.
I would still prefer to have my PC do all of the work/processing so that I can get pure 1080p goodness with 0% lag, but for $1 I can't really complain.
ComputerAbuser