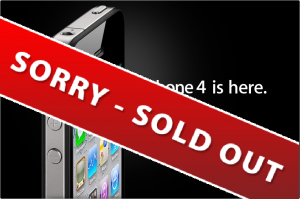 I guess it doesn't matter if your gadget is mediocre, has lots of problems and many haters, just slap an Apple logo on it and it will sell like hot cakes.
Here in Canada, the iPhone 4 is a very rare commodity indeed.  Over the last few weeks, my wife has been trying to get one, to no avail.  Rogers Wireless store employees claim that they have waiting lists of 30 people or more and that they only get 2 or 3 a week.
One of the main reasons for getting an iPhone over the competition is due to the availability of an official Geocaching app from GroundSpeak, the guys who run Geocaching.com.  Right now, we use GCzII on my Windows Mobile based LG GW825.  The program is free and kicks ass, but since we don't own any other GPS receivers, it means she can never go without me (unless I give up my phone for the day – not likely!).
There are alternative Geocaching apps for Blackberry and Android, but none of them work nearly as well as GCzII or the offical app.  Groundspeak claims that an Android version should be out this month.  If this iPhone 4 situation doesn't change before then, Apple may find themselves with one less drone.
ComputerAbuser